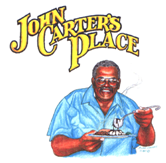 Founded in April 1992, John Carter's Place is known as one of the premier restaurants in the Dallas/Fort Worth area. John Carter's Place has an established reputation for exceptional food and outstanding service. Times change, but our rich tradition of superb quality coupled with warm and friendly service has remained a constant.

As we expand our catering division, our mission is to become one of the leading caterers in the area, offering a wide range of services—from private gatherings to large corporate events.
Locally owned and operated, John Carter's Place, offers full service on and off-premise catering and delivery to the Dallas/Ft. Worth area. Our menus reflect a wide variety of offerings appropriate for all occasions, and at respectable prices. Our food is delicious and presented with artistic vision. We supply superior, cutting-edge recipes and beverages to please every palate.

The John Carter's Place team is comprised of experienced and creative professionals. We are ready to guide you through the process of planning your event and provide courteous and hospitable service for your special occasions.